theNativeSociety® Interview with Jeanne
What do you do best?
I was a classically trained actress who studied in London and took that profession very seriously, acting mostly in theatre with some commercial and TV. I was very good as an actress, but sabotaged almost all of my auditions from my low sel- esteem. Later I went back to school and got a Masters in Arts, Entertainment and Management, which took me to working in non-profit at The Kennedy Center for Performing Arts and The Music Center in Los Angeles. I was a good marketer and fund-raiser, but didn't feel that I fit in with the people I worked alongside. When I started to teach yoga, it was as if all the things I had done in my life prepared me for teaching. I love to help people find the truth of a posture and eventually a Truth that dwells within themselves.
What makes you the best?
I think at heart, I am a below-average student and performer of any skill. Therefore I have had to put extra energy towards studying, practicing, and preparing to slowly understand anything I pursue so that I could be on the same level as the average or above average person doing the same. I am not the best as a teacher or practitioner. But my desire to be fully available for my students mixed with my passion for all things yoga has lead me to be fairly respected as an educator and practitioner. I am heartened to work in a field that also interests me, and improves me as a person. It's a triple dose of fortune.
What are your aspirations?
I am in the process of seeing aspirations from years ago come to reality, teaching in communities in the US and in Europe. In the future I hope to find a home that is in a natural environment where students could come study with me for in-depth sessions. I think more people are seeking how to live like a yogi, not just how do it for a few hours on the mat. How do we weave in Ayurveda, service, using our skills and talents, after studying about the practice? I would like to guide people and help them establish habits that they can take home. And it's possible that the manuals I have been writing may become a book at some point, for some of the information could benefit all beings, not just yogis.
Biggest Success?
I hope I haven't had my biggest success yet! One I can share:
I had just finished studying classical theatre in London and was doing "The Nerd," a fabulously funny show with a respected theatre company in my hometown. However, I didn't read it as a comedy. (See earlier note of me not being so quick as the average person.) I interpreted the story to be very serious and played it that way, using all of my new training skills. So, on opening night, when my character came out and said her first line, the audience erupted with a roar of laughter that not only threw me, it upset my character because the matter was not funny! They laughed throughout the show and apparently, I was a hit.
I learned a valuable lesson on how to work with comedy and most importantly, how to never plan how things will go. Stay humble and a bit naive and just do the best preparation you can. Let Nature do the rest.
Most Challenging Moment?
Choosing through yet another difficult mental dance, to finally sit still and not fix things, not run away, not mask it or blame something. By sitting still and allowing it to move through me, in all of the ugliness and fear of facing myself, I survived myself. It should be on a t-shirt: " I survived myself." I can do anything after that.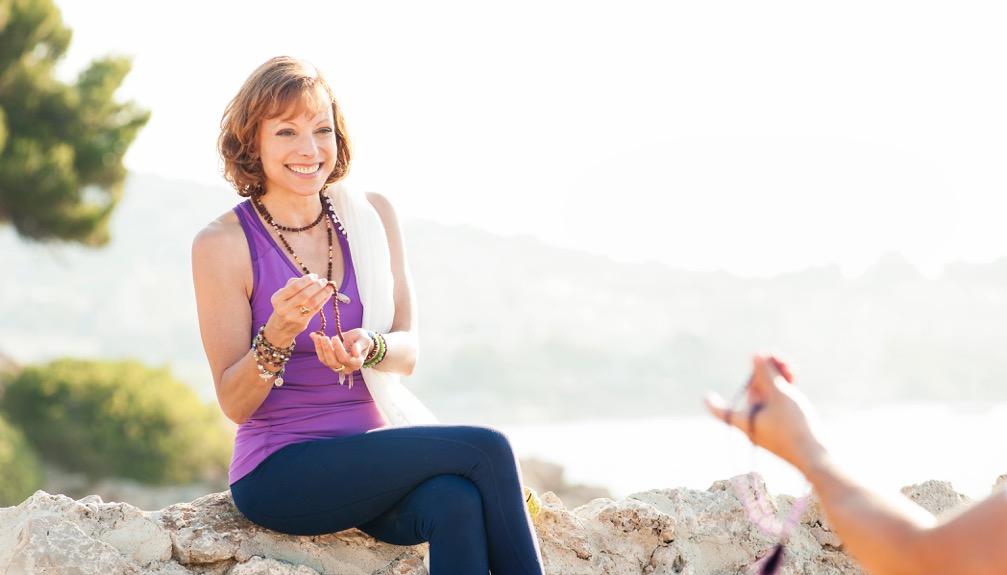 Motto?
"We ARE doing it. This is what doing it looks like." (Said when things are tough and we don't think we can get through the tough times.)
Favorite People/Role Models?
Favorite people: Anyone who has a sense of humor, a sparkle for life and the ability to laugh at themselves. Also, artists who stick their necks out, challenging convention, to shift our perspective.
Role Models: I seek stories in the media and in my community about people who experience loss or difficulty, and how they work through it, getting to the other side. I am always inspired by one's ability to find beauty, amidst adversity.
Favorite Places/Destinations?
My grand-teacher's ashram in Khajuraho, India, for my soul. Barcelona, Spain, (or really, all Spain) for beauty, indulging of the senses and community. The fjords of Norway for my spirit. I love to travel and am continuing to explore new regions and cultures.
Favorite Products/Objects?
My mother grew up on a corn farm in Eastern Iowa that was in the family for generations before them. From my grandmother I have vintage aluminum pots from the Four-H Club and the red and white vintage enamelware. I love these pots; they hold over 100 years of cooking in their vibration and are so well made, nothing designer about them. I hope that they last another 100 years.
On the shallow end, my favorite facial cleanser is Deep Cleansing Oil from DHC Skin Care
Favorite yoga mat and supporting products: anything from Manduka. Their stuff lasts. I have one in every thickness now.
Current Passions?
Cooking; I love to create in the kitchen. Give me a few ingredients and I'll come up with something. When I travel, my favorite thing is to visit the grocery stores for the anthropologic discovery and opportunity to try new things. I also fully support the arts and am a closet read-a-holic.