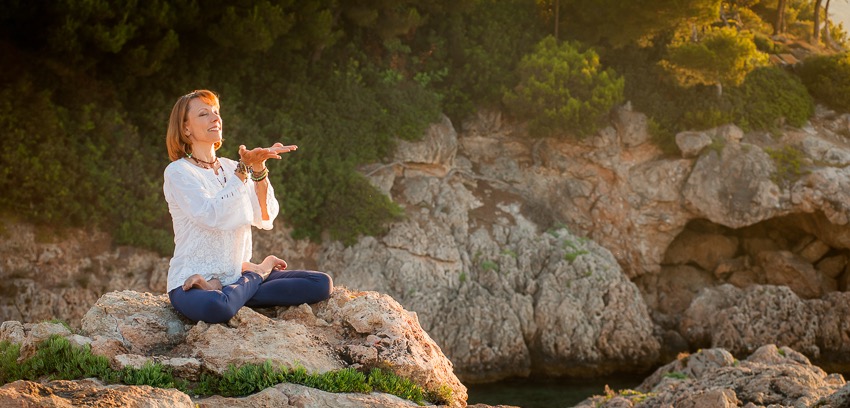 Tantra Flow Yoga 300 Hour Teacher Training (Part Three): May – June 2016
Location: Earth Yoga – Mallorca, Spain
Address: Carrer Despuig, 34, 07013 Palma, Illes Balears, Spain
Dates: May 30 – June 11, 2016
Cost: €1,000 before March 2016 / €1250 after March 1, 2016
Event Details
Tantra Flow 300 Hour Teacher Training
According to the yogic perspective, a human body is broken into five layers, known in Sanskrit as Koshas. The body that we see and use in most yoga practices is called the Annamaya Kosha, the physical body, consisting of bones, muscles, nerves, organs, fluids, etc. etc. Basically anything that is tangible, which can be seen and touched, operates on this level. A good 200 Hour Yoga Teacher Training teaches the yoga poses using this focus to keep the students safe as the new teacher develops his/her skill in seeing their students.
In the Tantra Flow Yoga 500 Hour Teacher Training, the new and/or experienced teacher will now learn about the layers underneath the physical layer. When one practices and teaches using knowledge and tools addressing these deeper layers, then the yoga practice becomes a richer, more fulfilling experience for the teacher and the student. It is now when the practice becomes transformational. This teacher training is broken into three parts, which can be offered in various ways to suit the needs of a community. Ample time in each of the three modules is directed towards practice teaching, creating wise sequencing, and learning effective hands on adjustments, with valuable feedback from the instructor.
300 Hour Teacher Training: Part Three – Vijnanamaya Kosha
This 100-hour module explores the fourth inner layer, where the joyous, wisest part dwells within each of us. Known as Buddhi, this Wisdom Layer is accessed only when the mind has developed the skill for concentration, allowing the veil of ignorance to be removed.
Students will learn:
The sequencing, anatomy and practice of: Balancing Postures and Extensions, Asanas that have the spine set in an upright position;

Techniques to develop strength in the inner and outer regions of the spine to increase the capacity for longer meditations;

How to teach difficult postures and include them safely in your own practice;

Introduction to Kundalini and understanding its role in the world of Tantra;

The important wisdom from Ayurveda and how to develop one's own daily practice. Students will also learn techniques to weave the Ayurvedic wisdom into their sequencing and teaching;

A number of sacred Tantric Meditations, which have been handed down from a living lineage, to increase the depth and comprehension of one's personal Meditation Practice.

Tantric Kriyas that change the energy and mental fields leading to higher realms of awareness;

The art of Prana Dharana, a Tantric practice of harnessing energy into a force of focus that can eventually lead to healing and creation;

Introduction to the use of Mudras and how they can enhance a practice.

Appreciate the power of Maha Mudra, considered the most advanced form of practice, as a technique that burns our past karmas and lights up the dormant power dwelling within each of us.

If you have question regarding the training program, contact Jeanne here.

Check out the upcoming teacher training events section to find what's coming up soon!
Related Posts