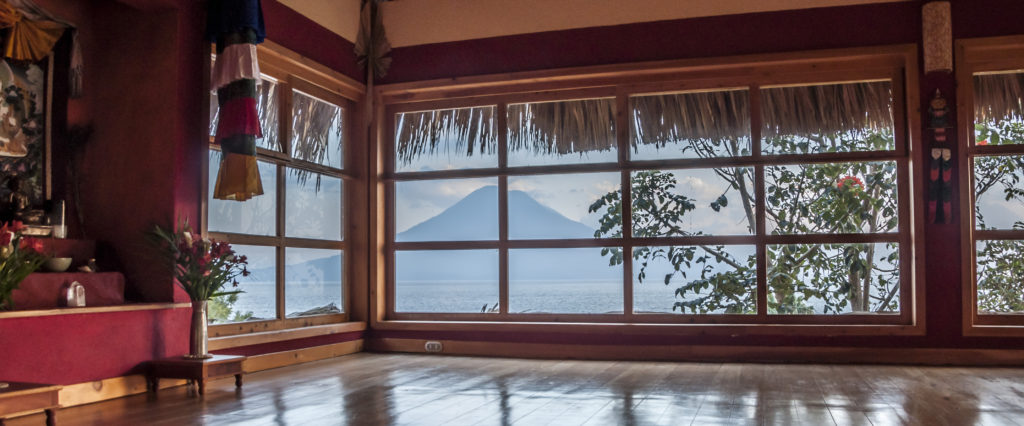 Yoga & Culture in Guatemala: April 2018
Retreat Hosted By: International Yoga
Dates: April 21-28, 2018
Email: info@internationalyoga.com
Phone: (415) 250-0712
Room Prices: $1,795.00 – $2,495.00
Event Details
Come join Jeanne Heileman at a sacred resort nestled in the harbor of the Lake Atitlan, described as "the most beautiful lake in the world," by Alexander von Humboldt, and, "too much of a good thing," by Aldous Huxley. Lake Atitlan has a power that is comparable to the Ganges in India, boasting the same healing and loving energy as the Divine Mother. Surrounded by three volcanoes, this uniquely picturesque and tranquil retreat center has tastefully designed rooms each featuring lake and volcanic peak views. Along the shores are a dozen villages where life and customs have changed little over the centuries, each offering a rich and varied tapestry of food, color, language and culture.
During our time together we will explore the Mahavidyas, the ten Tantric visions of the Divine Goddess, while being fully supported by our surroundings. These deities from the Hindu tradition are aspects of the Supreme deity, in the feminine form. Each has a lesson to teach us, each has insights for us to invite into our life and habits.
Each morning will offer meditation, pranayama and a deep yoga session, themed around one of the goddesses. The afternoon sessions will take you into deeper explorations of the same theme or unique practices with a new goddess. In addition to two planned excursions, you will have plenty of free time to explore the resort to kayak, hike, swim, receive a variety of distinctive treatments or explore the local towns. You will return home rested, inspired, reset with a new routine and life-long friends made from your trip.
Highlights
Accommodation at award-winning, eco-chic retreat center on the shores of Lake Atitlan
Gourmet vegetarian home-cooked meals (meat & fish available upon request)
Simple yet comfortable rooms, all with stunning views over the lake and inviting décor, private baths, outdoor patios, amazing views, comfortable beds, and quality linens
Spa services offering Swedish, Ayurvedic, and Thai massages
Solar-heated stone hot tub and wood-burning sauna
Two inspiring and spacious yoga rooms
Two group excursions
Room Prices:
$2,495.00 – Standard Single Room
$2,195.00 – Deluxe Shared Double Room
$1,995.00 – Standard Shared Double Room
$1,795.00 – Triple Shared Room

Included:
7 nights hotel accommodation, 3 meals a day, unlimited tea/coffee/filtered drinking water, arrival and departure boat trip, daily yoga and meditation classes, 2 group excursions, daily yoga and meditation with Jeanne, taxes
Not Included:
Airfare airport transfers spa services additional excursions gratuities (approx. $5-$7/day) travel insurance
Payment and Cancellation Policy:
A non-refundable deposit of $500 is required to hold your space. Final Balance Policy: Final payment must be received by February 10, 2018 in order to be eligible for the early bird pricing, and all payments are non-refundable. Cancellation Policy: In the event of cancellation, your entire payment will be refunded less the $500 deposit if the cancellation is made before February 10, 2018. Payments are non-refundable after this date. Travel Insurance: We strongly recommend that you purchase travel insurance for your trip. There are many travel insurance companies to choose from, but Travelex and World Nomads are two reputable organizations for worldwide travel coverage.
Related Posts