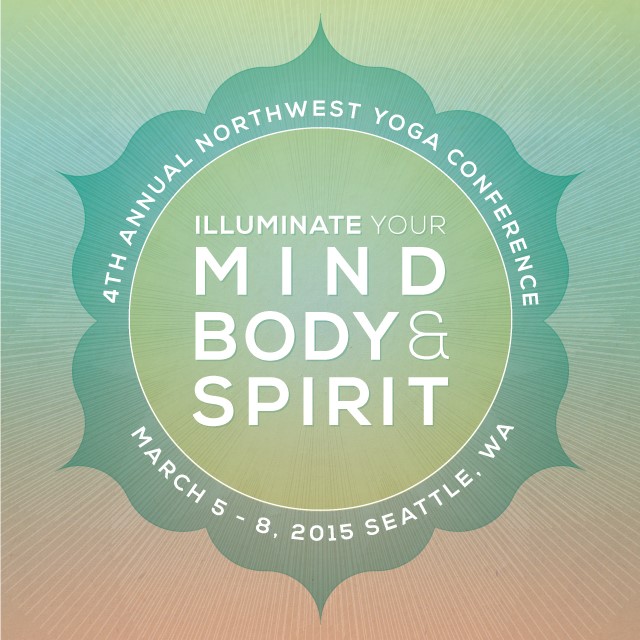 NORTHWEST Yoga Conference 2015
Illuminate Your Mind Body & Spirit
Join Jeanne at the conference for a diverse selection of workshops including The Radiance of Fire: Igniting Our Core, Finding the Light in Our Hearts: A Tantric Heart Opening, The Bhagvad Gita: A Closer Look, Creative Sequencing that Makes Sense and The 5 Pranas.
[dt_gap height="10″ /]
Dates: March 6-8, 2015
Location: Seattle, WA
Website: http://nwyogaconference.com
Register: www.nwyogaconference.com/registration
[dt_gap height="10″ /]
The Bhagvad Gita: A Closer Look
Friday March 6, 2015 4:00-6:00pm
Join Jeanne for a lively, engaging lecture and discussion of the Bhagavad Gita. A selection of the most popular chapters will be reviewed with discussion on how it applies to the history and philosophy of yoga, as well as our daily lives. Students are invited to bring their own translations, although it is not required for the workshop. All levels of students are welcome. Information is presented in an accessible and thought provoking way.
The Radiance of Fire: Igniting Our Cores
Saturday March 7 12:00-2:00pm
Learn to access, light, build and maintain a magical flame that dwells from the center of your body – your core. Use your core in different ways and directions to release tension, access energy, and connect with Bandhas (energy locks) and Mudras, (energy seals) to light this inner fire. This flame is necessary to digest and assimilate our food and also process our thoughts and emotions making you feel more confident and stable. The practice was developed while Jeanne had an injury preventing her from putting weight on her leg for months. Therefore, practitioners with knee, hip and feet limitations are welcome. A Tantric Fire Meditation will be included. You will leave feeling powerful, breathing deeper than ever, and sitting taller than before!
Props: A foam block and a strap are used in this workshop.
Creative Sequencing that Makes Sense
Saturday March 7 4:00-6:00pm
Learn what makes your students leave their class feeling fulfilled, released from negative energy, and inspired. Avoid sequencing that can leave your student with injuries or feeling out of alignment with their energy and heart. As yoga teachers, we need to have deep knowledge in the art of sequencing to safely guide our students to a specific place in each class. The concept of doing a pose randomly, because it feels good, is not only unwise, but can be unsafe. This hands-on workshop includes a practicum of creating a sequence as a group.
Finding the Light in Our Hearts: A Tantric Heart Opening
Sunday March 8 12:00-2:00pm
Learn to open your heart, from the inside out. In this backbend practice, the adventure is two-fold, good safe alignment and breath. Learn how to breath into a backbend in a way that your pose blooms beautifully and you can truly feel the opening in your heart. This flow practice builds core heat for the muscles and joints, and immediately applies breathing techniques to access the inner heart. As you start to open, you will go into deeper backbends on the outside, while also moving deeper with your breath and Tantric visualizations on the inside.
A special Tantric heart opening meditation will close the workshop.
Props: A block and a strap are used in this workshop.
The 5 Pranas
Sunday March 8, 4:00-6:00pm
Breathing is the most important aspect in a yoga practice and can significantly transform a student's progress. It is more than inhaling and exhaling. In the Yogic perspective, there are five specific pathways of breathing and they can either help a pose or negatively affect a pose. In this workshop, we will learn all five directions, discover where each of us is deficient, and understand how they affect us on a mental, emotional and physical level. We will then do a practice using these pathways followed by a meditation to set the energy we've cultivated. You will leave with new tools to apply to your practice and to your life, expanding beyond your limitations. Your yoga will progress to a new, rewarding level.
Props: A block, strap and blanket are suggested.