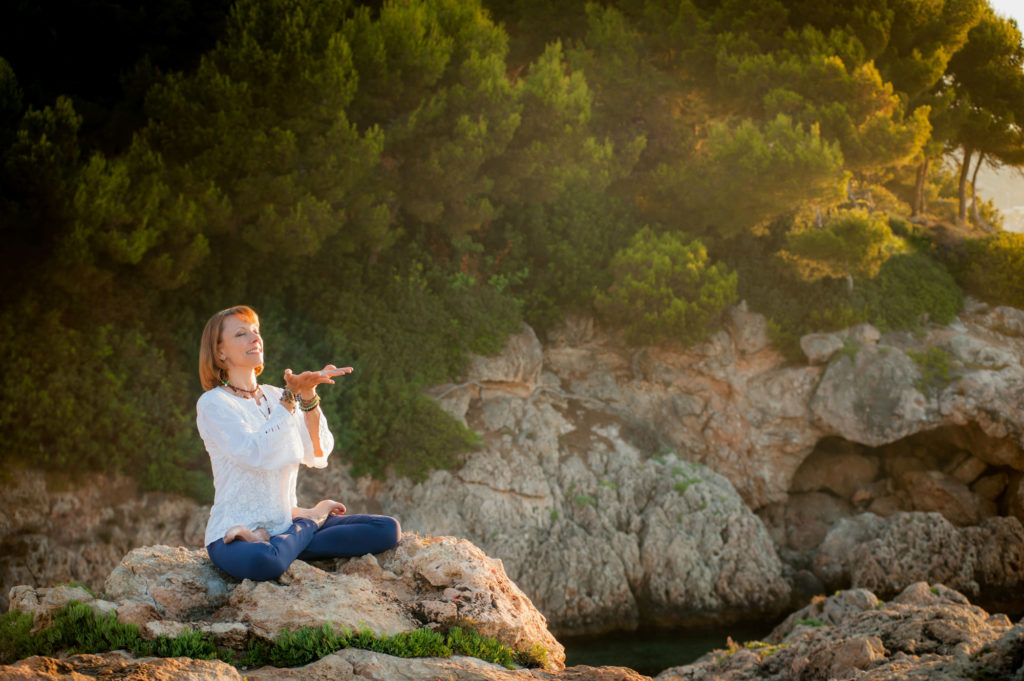 Tantra Flow Yoga 300 Hour Teacher Training Part One; Pranamaya Kosha
Dates: Sunday, October 11 – Friday, October 23, 2020
Location: Valsana Hotel & Apartments, Arosa, Switzerland
Cost: Deposit of €500, Early Bird discount €3185 until August 24 / €3485 after
(Shared bed rate of €2345 if second person is also registering)
About This Trip
Come join Jeanne Heileman in the glorious Alpine region of Arosa, Switzerland to dive deep into the first of three modules in the Tantra Flow Yoga™ 300 Hour Teacher Training. We will be staying at the luxurious Valsana Apartments, which will be closed to all other guests. Come fill your yoga knowledge in one of the most beautiful regions of the world staying in your own private room in a first-class apartment. You are welcome to participate in the course as a step towards completing all three modules, or join us for this one amazing experience.
(Modules for Part Two and Part Three are scheduled and listed, although registration will not be open until the closing of the Part One module.)
Tantra Flow Yoga™ 300 Hour Program
According to the yogic perspective, a human body is broken into five layers, known in Sanskrit as Koshas. The body that we see and use in most yoga practices is called the Annamaya Kosha, the physical body, consisting of bones, muscles, nerves, organs, fluids, etc. etc. Basically anything that is tangible, which can be seen and touched, operates on this level. A good 200 Hour Yoga Teacher Training teaches the yoga poses using this focus to keep the students safe as the new teacher develops his/her skill in seeing their students.
In the Tantra Flow Yoga™ 300 Hour Teacher Training, the new and/or experienced teacher will now learn about the layers underneath the physical layer. When one practices and teaches using knowledge and tools addressing these deeper layers, then the yoga practice becomes a richer, more fulfilling experience for the teacher and the student. It is now when the practice becomes transformational. This teacher training is broken into three parts, which can be offered in various ways to suit the needs of a community. Ample time in each of the three modules is directed towards practice teaching, creating wise sequencing, and learning effective hands on adjustments, with valuable feedback from the instructor.
Part One; Pranamaya Kosha
This 100-hour module introduces the student to the Pranic Body, sometimes referred to as the Energy Body. The anatomy of respiration is studied, which leads to a variety of Pranayama Techniques and the use of Bandhas. Students also learn about the Nadis, the Chakras and how the energy of each affects different poses. This layer focuses extensively on the sequencing, instructing and giving adjustments for Laterals, Backbends and Forward Folds.
Students will learn:
Smart sequencing and intelligent instruction in the categories of Laterals, Backbends and Forward Folds, that leads to positive energetic effects for the student. Sequencing asana now becomes an alchemy to help the student.
The anatomy of respiration and how to improve our breathing for physical and mental health;
A variety of Pranayama Techniques and how to teach them to a class;
The Pranavayus and how they work in our body to help or hinder a pose;
The definition of the Bandhas, how to apply them and how to teach these subtle actions;
The Nadis, currents of energy that run throughout the body and affect our left and right brain and equilibrium;
The Chakras, wheels of energy that dwell along our spine, which lead to ease or limitations in our daily life;
How the energy of each Chakra affects different poses and information on helping students who are experiencing limitations;
Practice teaching to improve a teacher's skill in communication;
Creating wise sequencing that keeps the student safe while also interested;
Effective hands on adjustments in the categories of Laterals, Backbends and Forward Folds;
Constant valuable feedback from the instructor.
Please Note: The Training begins at 6:00pm on Sunday, 11 October with a Welcome Dinner and ends at 9:00pm Thursday, 22 October, 2020. It is highly recommended that you plan your travel to check in to the apartment and get settled before the Welcome Dinner at 6:00pm. Plan on checking out the morning of Friday, 23 October.
Who Is Eligible
Yoga teachers who have completed a 200 Hour Teacher Training and want to advance their studies to a 300-Hour Registration, which enables them to receive Yoga Alliance 500-Hour Status.
Yoga teachers who have completed a 300, or 500 Hour Training that has not focused significantly on the subtle layers of yoga, or who just want to learn more;
Devoted yoga students who are not teachers but are hungry to learn more about deepening their own practice.
Why This Location
I was introduced to the Valsana Apartements in the Swiss Alps by a yoga student and fell in love with the concept of being in a glorious environment, surrounded by pure air and lots of privacy. Could there be a better place to work with one's own Prana and enrich the inner life?  We will be in Arosa, Switzerland at an exclusive resort during the off-season. This means that the apartment building and adjacent hotel will be closed to all other visitors except for us.  It is an exclusive cocoon just for those who are coming to dive into deep practice.  You will be offered space for reflection and time for walks in the gorgeous region.
Each two-bedroom apartment has a working kitchen with full amenities and there is an open grocery store on the first floor of our building.  While some local restaurants will be closed, we will be able to practice living as yogis balancing the study with cooking food to suit your needs and nutrition. In this way, you will return home with more than yoga skills in your pocket, you will also have many new positive habits in your routine.
Getting There:
Valsana is located in the Alpine resort village of Arosa, Switzerland. It is known for its lakes, ski slopes and hiking trails.
-Students coming from outside Switzerland should fly into Zurich.
-From Zurich Airport, take a train to the Zurich Central Station.
-Change trains, taking a train to Chur.
-Change trains, taking the last train to Arosa. (This last ride is breathtakingly beautiful.)
-From Arosa Station, the resort is a 5 – 8 minute walk. (Details will be provided.)
-Train Station scheduling can be found at: https://www.sbb.ch/en/buying/pages/fahrplan/fahrplan.xhtml
If you want to drive, it is described as an easy road to Chur. The travel from Chur to Arosa may be windy, and will be beautiful. Valsana does have a car part for a simple rate of CHF 10 / day.
If you desire, you could arrange for a taxi or General Limousine Service to transport you. Contact Jeanne for more details on that option.
Related Posts